안녕하세요? CoreELEC 에서 XFS 모듈이 없는것 같았는데 실제로는 있어서, 확인해본 결과 이전에 LVM 용도로 사용하고 있던 외장하드였습니다.
그래서 포맷을 하려던 찰나, fdisk 가 없다는 것을 알게 되었고, parted 를 사용해야된다는 것을 알았는데요.
생각보다 fdisk 보다 parted 가 더 편한 것 같아서 간단하게 포맷기를 작성합니다.
CoreELEC:~ # fdisk /dev/sda
-sh: fdisk: not found
자 그럼 포맷 시작해 보겠습니다.
일단은 help 한번 쳐 줍니다. 어떤 명령어를 쓸 수 있는지 체크합니다.
CoreELEC:~ # parted /dev/sda
GNU Parted 3.4
Using /dev/sda
Welcome to GNU Parted! Type 'help' to view a list of commands.
(parted) help
help
align-check TYPE N check partition N for TYPE(min|opt)
alignment
help [COMMAND] print general help, or help on
COMMAND
mklabel,mktable LABEL-TYPE create a new disklabel (partition
table)
mkpart PART-TYPE [FS-TYPE] START END make a partition
name NUMBER NAME name partition NUMBER as NAME
print [devices|free|list,all|NUMBER] display the partition table,
available devices, free space, all found partitions, or a particular
partition
quit exit program
rescue START END rescue a lost partition near START
and END
resizepart NUMBER END resize partition NUMBER
rm NUMBER delete partition NUMBER
select DEVICE choose the device to edit
disk_set FLAG STATE change the FLAG on selected device
disk_toggle [FLAG] toggle the state of FLAG on selected
device
set NUMBER FLAG STATE change the FLAG on partition NUMBER
toggle [NUMBER [FLAG]] toggle the state of FLAG on partition
NUMBER
unit UNIT set the default unit to UNIT
version display the version number and
copyright information of GNU Parted
오케이 다 체크했으니 파티션 상태를 한번 봅니다.
역시 .. lvm 으로 되어 있어서 마운트가 되지 않았습니다. 이전에 XFS 로 사용중이던 디스크라고 굳게 믿고 있었는데..
(parted) p
p
Model: CT120BX1 00SSD1 (scsi)
Disk /dev/sda: 120GB
Sector size (logical/physical): 512B/512B
Partition Table: msdos
Disk Flags:

Number Start End Size Type File system Flags
1 1049kB 120GB 120GB primary lvm
이 디스크를 gpt 로 변환하고 파티션 1개를 생성하겠습니다.
(parted) mklabel
mklabel
New disk label type? gpt
gpt
Warning: The existing disk label on /dev/sda will be destroyed and all data on
this disk will be lost. Do you want to continue?
Yes/No? yes
yes
(parted) mkpart
mkpart
Partition name? []?

File system type? [ext2]? ext4
ext4
Start? 0%
0%
End? 100%
100%
(parted) quit
quit
Information: You may need to update /etc/fstab.
와우 굉장히 쉽습니다.
다음으로 포맷을 해줍니다.
CoreELEC:~ # mkfs.ext4 /dev/sda1
mke2fs 1.45.6 (20-Mar-2020)
Creating filesystem with 29304832 4k blocks and 7331840 inodes
Filesystem UUID: a337939a-c94d-413f-8c92-a6d70c3d5576
Superblock backups stored on blocks:
32768, 98304, 163840, 229376, 294912, 819200, 884736, 1605632, 2654208,
4096000, 7962624, 11239424, 20480000, 23887872

Allocating group tables: done
Writing inode tables: done
Creating journal (131072 blocks): done
Writing superblocks and filesystem accounting information: done
잘 잡히는지 확인합니다.
CoreELEC:~ # df -h
Filesystem Size Used Available Use% Mounted on
devtmpfs 1.9G 4.0K 1.9G 0% /dev
tmpfs 766.4M 10.7M 755.7M 1% /run
/dev/mmcblk1p1 511.7M 219.1M 292.6M 43% /flash
/dev/loop0 198.0M 198.0M 0 100% /
/dev/mmcblk1p2 57.1G 575.2M 56.5G 1% /storage
tmpfs 1.9G 0 1.9G 0% /dev/shm
tmpfs 4.0M 0 4.0M 0% /sys/fs/cgroup
tmpfs 1.9G 2.3M 1.9G 0% /var
tmpfs 1.9G 0 1.9G 0% /tmp
overlay 57.1G 575.2M 56.5G 1% /storage/.kodi/userdata/addon_data/service.system.docker/docker/overlay2/1745dea2ae3d1e223deec8cd5a2417be3d8ec7f883147f267a8edadb7692288b/merged
/dev/sda1 109.5G 60.0M 103.9G 0% /var/media/sda1-usb-CT120BX1_00SSD1_
덤으로 이 SSD를 USB3.0 포트에 연결하고 삼바 속도 측정을 해 보았습니다.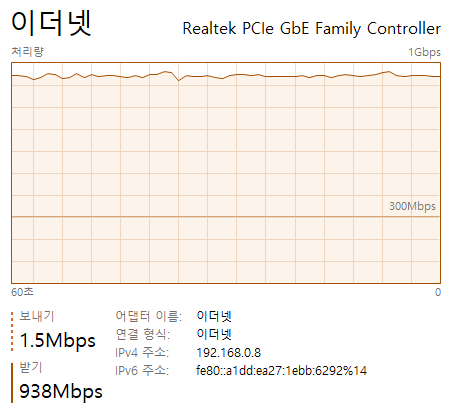 1) 컴퓨터 --> X96Air P4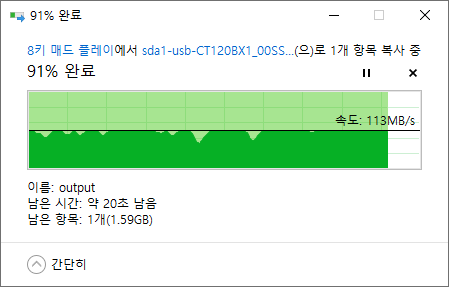 2) X96Air P4 --> 컴퓨터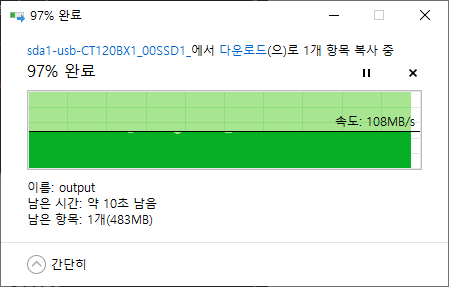 ??? USB3.0 외장 SSD 인데 대략18기가짜리를 복사했는데 중간 중간 흔들리는 모습을 보여주지만 대부분 100MB/s 이상을 보여줍니다.
역시.. S905X3 만 되어도 파일 IO / 네트워크 IO에는 문제 없는것 같습니다.
이전 GTMINI-A 의 경우 50MB/s 정도로 측정이 되었습니다. S905X3 로 오면서 무언가 발전이 있는 것 같습니다.
간단 글 여기서 마치겠습니다.
감사합니다.